We live for the fame of the name of Jesus by developing fully FUSED followers of Christ
Let no one despise your youth but be an example to the believers in word, in conduct, in love, in spirit, in faith, in purity.
1 Timothy 4:12
FUSION STUDENT MINISTRY IS THE YOUTH MINISTRY DEPARTMENT OF MIDLOTHIAN BAPTIST CHURCH
WE SERVE STUDENTS IN OUR CHURCH AND COMMUNITY THAT ARE IN GRADES 6-12
WE HELP STUDENTS COME TO KNOW, LOVE, AND WORSHIP JESUS CHRIST AS THEIR LORD AND SAVIOR
WE ALSO STRIVE TO LAY THE FOUNDATION FOR STUDENTS TO LIVE A LIFE THAT IS SOLD OUT TO CHRIST BEYOND THEIR HIGH SCHOOL YEARS
WE MEET SUNDAYS AFTER THE MAIN CHURCH SERVICE AT 11:30 AM AND WEDNESDAY NIGHTS AT 7 PM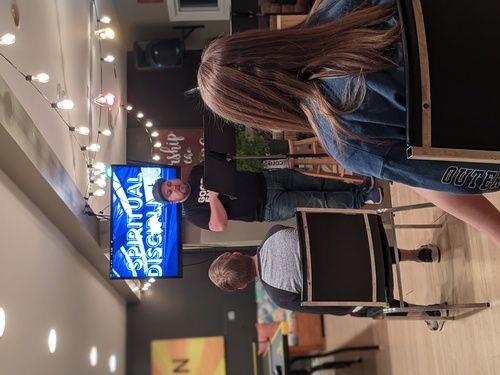 Our Youth Pastor and our volunteers
Pastor Brandon & Larkin Witmyer
Our Theme for the Year
Each year we choose a theme; that theme and its concepts are woven into each of our lessons, activities, and events for the year
Our theme for this year is…


Going Deeper
As Christians we should always strive to be growing in our relationship with God. This year we will be looking at taking our relationships with God deeper than we have before!
Current Lesson Series:
Update


Our Favorite Worship Songs

Sunday Morings: 11:30am-12:30 pm
Wednesday Nights: 7pm-8pm
Get Connected. Go Deeper.
Every other Monday at 6:30 pm
Middle School Small Groups
GRADES 6-8
Leaders: Brandyn & Laura
Where: At the church!


High School Small Groups
GRADES 9-12
Leaders: Pastor Brandon & Alex
Where: At the church!


The primary goal of the GOOD ENUF Virtual Concert Series is to encourage audience members to believe God, trust God, and seek counseling if they need it. We want to use the concert to actually connect audience members in need to counselors through referrals or financial assistance garnered through the concert series.
Purchase your tickets at
https://www.legin.tv/goodenuf
Mark your calendars for [EVENT NAME]! We'll meet at [LOCATION] at [TIME]. We hope you can join us!
We'd love to hear from you. Fill out the form below to get started.
Follow us on social media.